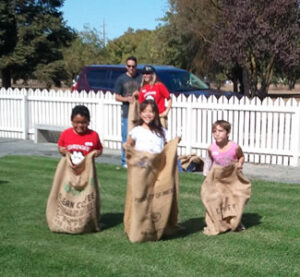 The grounds of the ECCHS Museum are alive with the sound of children each Fall and Spring as third graders travel back in time to learn the history of their local area.  Morning tours of the Byer-Nail House, Toolshed, and Grounds give them good background information for an afternoon of activities as they do Chores, play Games, and attend School as they would have done in 1888.
Over 1,450 students visit the Museum each year to enrich and extend classroom lessons on local history, which is part of the third grade curriculum.  Docents share their knowledge of and love of history with students as they tour the Byer-Nail House built in 1878 and the toolshed which houses farming and other equipment.  The Caboose is a favorite as children learn of the importance of the railroad to our area's development.
After enjoying lunch under the Pole Barn amidst restored fire engines, tractors, trucks, and a covered wagon, children engage in activities of the 1800's.  They learn that they would be expected to complete Chores in the morning before breakfast and before they walked 1-2 miles to School.  They would have more Chores in the afternoon and if time was left, they could enjoy Games played with items no longer needed for the household – and they were NOT electronic!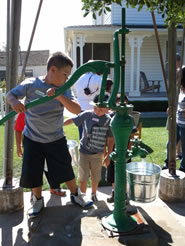 Chores include pumping water, washing clothes with a washboard before hanging them on the line to dry, gathering eggs, and making homemade ice cream with a crank ice cream maker and churning butter.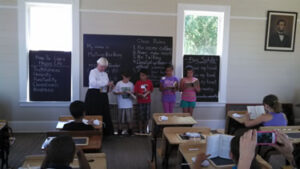 Games of hoop rolling, sack races, graces, and tin can stilts keep students active they enjoy wooden toys that would have been made for them including ball in a cup and Jacob's Ladders.
A classroom lesson in the Eden Plain Schoolhouse completes the student's day where the School Marm expects them to 'make their manners' and they experience reading from a McGuffey Reader, doing 'rithmetic to the tune of the hickory stick, and writing on a slate.
For more information, see Local History Days under Programs tab.
To see more pictures, visit the Gallery.